Bag Pouches Foil Film Tubes Hose
About us
We produce according to your wishes and requirements





Bag Pouches Foil Film Tubes Hose a

nd
TRASH-COMPACTOR-BOXES
made of Polyethylen and Polypropylen

Polymer Synthese Werk is the specialist for polyolefins and packaging materials. We have been producing LDPE, MDPE, PP, composite films and mixed films in Rheinberg for over 70 years. Short delivery times and TOP quality are guaranteed. In addition to bags, film and tubes, we also produce trash compactor boxes.

Consulting & planning
We advise you competently in solving your packaging requirements and thus also contribute to highly efficient and thus cost-optimized packaging processes.
Guaranteed quality
An in-house quality assurance system ensures that all products can be tested and certified if required.
Production
We have been producing TOP quality from Rheinberg since 1951. Short delivery times are guaranteed. Even small amounts are possible. Buy directly from the manufacturer.
We also produce flat double bags, box inserts double nested, cross bottom bags with welded and cut corners, cross bottom bags double nested, garbage bags, valve bags, trapezoidal bags, flat hoods, gusset bags, round bottom bags double nested, with a double bottom plate, or with a lid disc, Gathering hose, rider band, gusseted hose and much more. As additives, we can equip the bags with antistatic, antiblock, antifog, electrically conductive, food-safe, flame-retardant, slip-resistant or UV-resistant. Smaller quantities are also possible. Buy directly from the manufacturer. 
We process High Pressure polyethylene (LDPE), Medium Pressure polyethylene (MDPE), Low Pressure (LLDPE Linear Low Density), Polypropylene (PP) and mixed films. All of the raw materials and masterbatches we use are certified. A REACH declaration of conformity is available for each type of raw material. Each batch delivered has a batch certificate. These are managed and monitored in our quality management system. Depending on the requirements and application, FDA approval is also available. This also applies to all the masterbatches we use. All additives such as lubricants, antistatic, UV stabilizers, anti-slip, antifog or electrically conductive are certified and are used according to your requirements. Only certified batches from well-known manufacturers are used for color additives. An internal quality management system monitors production and thus ensures exact batch tracing. In this way, we ensure that your product is optimally protected.

Strongly branched polymer chains, therefore low density between 0.915 g/cm³ and 0.935 g/cm³ ("LD" stands for "low density")
Linear medium density polyethylene between 0.93 g/cm³ and 0.94 g/cm³. Created by mixing LDPE and HDPE.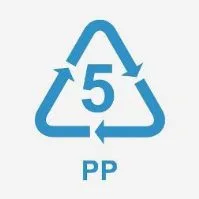 The density of PP (polypropylene) is between 0.895 and 0.92 g/cm³. Similar properties to polyethylene but slightly harder and more heat resistant.
Environment
Our packaging material is used worldwide and is environmentally friendly as it is 100% recyclable. PE films are free of silicone and halogens and contain no plasticizers or heavy metals. During production, there is no odor nuisance or waste water pollution. They are groundwater-neutral when stored on a landfill. No toxic fumes, gases or slag are produced during combustion to generate energy. They burn without leaving any residue to form carbon dioxide and water. Polyethylene is remeltable, i.e. fully recyclable and can therefore be reused in another form. Our production waste is sorted and sorted for reuse (rLDPE) in our own regeneration plant. For more manufacturing and environmental information, see Manufacturing and Environment.
Sustainability
Sustainable management and ethical action have always been a priority for Polymer. This has now been checked again by EcoVadis, the world's leading provider of sustainability ratings. The result: Polymer-Synthese-Werk GmbH was awarded the EcoVadis silver certificate.