Manufacturing | Environment | Sustainability
Polyethylen (PE) and Polypropylen (PP)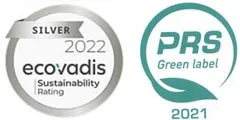 Manufacturing
The starting monomers - propene and ethene - are gaseous at room temperature, and when they are interlinked (polymerized) they form long molecular chains, the so-called polymers. The most important representatives of this group of plastics are polyethylene (PE) and polypropylene (PP).
Environment
Plastic films made of polyethylene contain carbon and hydrogen - the same basic organic substances as wood and plant fibers. PE / PP films are physiologically harmless because they do not contain any plasticizers or heavy metals. In addition, they are silicone-free, BHT-free and free of halogens.

There is no odor nuisance or wastewater pollution in PE film production. 3 times less carbon monoxide, 6 times less nitrogen oxide, 8 times less hydrocarbons, 13 times less sulfur dioxide and 260 times less dust are released than with other materials. When stored on the landfill, they are neutral to groundwater. Used PE packaging materials can be sustainably recycled back into granulate and reprocessed. PE films can be used to generate energy as a substitute fuel in combustion power plants. No toxic vapors, gases or slags are produced here. They burn to carbon dioxide and water without leaving any residue.

By continuously optimizing our production facilities in terms of quality and energy savings, we have been able to significantly reduce our CO2 emissions. All of our production waste is sorted and reprocessed in our own recycling facility and added back to the production cycle.

Sustainability
Sustainable management and ethical action have always been a priority for Polymer. This has now been checked again by EcoVadis, the world's leading provider of sustainability ratings. The result: Polymer-Synthese-Werk GmbH was awarded the EcoVadis silver certificate.
EcoVadis is an internationally recognized Corporate Social Responsibility (CSR) self-assessment and offers a solution for monitoring sustainability in global supply chains. The EcoVadis methodology is based on international sustainability standards (GRI, UN Global Compact, ISO 26000) and is monitored by a scientific panel of CSR and supply chain experts to create reliable CSR ratings.
Our goals are:
  to protect the environment and resources as much as possible

  Using packaging instead of consuming it

  Preserving raw materials and materials in the material cycle instead of losing them through biodegradability or composting
In the field of regrind we offer the following qualities:
  In the field of regrind we offer the following qualities:

  clean, pure, odorless self-regenerate

  Mixed films with a regrind content of up to 70% from ICSS-certified production

  transparent regrind  cloudy regrind for rubbish bags, construction foil and bags
Properties of thermoplastic plastics:
Low density, highly branched polymer chain

Low density between 0.915 g / cm³ and 0.935 g / cm³

The melting point is 106 to 118 ° C.

Temperature resistant from -50 ° C to + 80C.
Characterized by its low weight, high elasticity and elasticity. It has a high tear resistance and has good welding and shrinking properties. Both very good heat resistance and suitable for deep freezing. LDPE is physiologically harmless and suitable for the packaging and storage of food.
Average density between 0.930 g / cm³ and 0.940 g / cm³.

The melting point is 125 to 128 ° C.

Temperature resistant from -50 ° C to + 90C.  
Made by mixing LDPE and HDPE, combining the properties of LDPE and HDPE. Softer than LDPE and stiffer than LDPE. More flexible than HDPE. High scratch resistance. Meets food handling guidelines. This material has many uses, most commonly as a packaging material.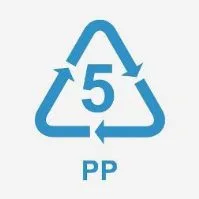 Low density between 0.895 g / cm³ and 0.920 g / cm³

Made by polymerizing propene.

The upper usage temperature is 100 ° C to 110 ° C.

In chemical terms, PP is relatively similar to PE, but much harder, stronger and more thermally resistant.
Polypropylene has a higher stiffness, hardness and strength than polyethylene, but these are lower than other plastics such as polyamide. Due to its low surface energy, it is very difficult to glue and print. PP is odorless and skin-friendly, it is suitable for applications in the food sector and pharmacy, it is physiologically harmless.
High density between 0.940 g / cm³ and 0.970 g / cm³.

Slightly branched polymer chain.

The melting point is 128 to 136 ° C.

Temperature resistant from -50 ° C to + 100C.  
Great tensile and tear strength. Due to the lowest flexibility and vapor permeability, mainly used in injection-molded film extrusion. Stiffer and crackling feel than with LDPE films. HDPE is not shrinkable. Is not used with us.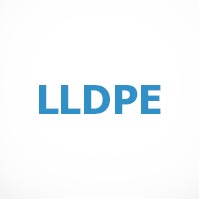 Low density between 0.87 g/cm³ and 0.93 g/cm³

Linear main chain with few or no long branched chains, but with uniform branching with only very few short side chains.

Extremely puncture and tear resistant.

Very flexible and stretchy.

It is not transparent and is difficult to print on. Mainly used for stretch film and we only use it for blends to improve mechanical properties. LLDPE does not have its own recycling code and is therefore not marked with a sign.