We produce flame-retardant film and hose in accordance with DIN 4102 and EN 13501-1 in fire protection classes B1 and B2.
The film has a whitish yellow color. It can also be equipped with antistatic agents. A different coloring can be done according to your wishes.
Do you have a need or do you need further information?
Contact us

Notes on fire protection hose/tube B1/B2
We also produce shirring hose/tube, gusseted tube, hose blanks and much more.
We advise you competently on the solution of your packaging requirements and thus also contribute to highly efficient and thus cost-optimized packaging processes.
As additives, we can equip the bags / film / hose with antistatic, antiblock, antifog, electrically conductive, approved for foodstuffs, flame-retardant or UV-resistant. The surface is either slippery or non-slip. On request, we can also offer full-surface needling. The needling ensures that air escapes during packaging.
We process polyolefins such as high pressure (LDPE), medium pressure (MDPE), mixed films made of the aforementioned materials as well as polypropylene (PP) and various composite films. All raw materials and masterbatches we use are certified. A REACH declaration of conformity is available for each type of raw material. Every batch delivered has a batch certificate. These are managed and monitored in our quality management system. Depending on requirements and application, also via FDA approval.
An in-house quality assurance system ensures that all products can be tested and certified if required. Buy our LDPE/MDPE/PP tube products directly from the manufacturer.
Our PE tubes products are environmentally friendly because they are 100% recyclable, rot-proof and neutral to groundwater. Polyethylene can be re-melted, i.e. it is completely recyclable and can therefore be reused in a different form. Our production waste is recycled in our own regenerated plant for reuse.
Shirring hose/tube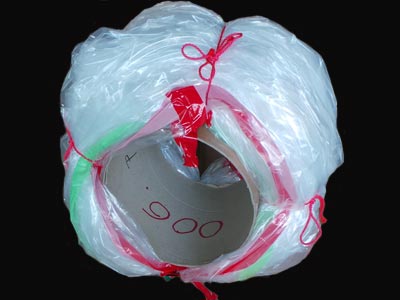 Used for packaging machines for powder filling. A certain length of flat tube is gathered and tied onto a cardboard sleeve. Diameter and hose length depend on the machine used.
For all other inquirys, please use our: