Low density between 0.895 g/cm³ and 0.920 g/cm³. Produced by the polymerization of propene. The upper service temperature is 100°C to 110°C. Chemically, PP is relatively similar to PE, but significantly harder, stronger and more thermally resilient. Polypropylene has a higher rigidity, hardness and strength than polyethylene, but these are lower than other plastics such as polyamide.
Due to its low surface energy, it is very difficult to glue and print on. PP is odorless and kind to the skin, it is suitable for applications in the food and pharmaceutical industries and is physiologically harmless.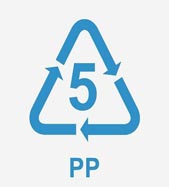 Other properties:
With the help of our foil calculator you can determine the weight, the foil area, the roll diameter and the foil thickness of your desired product yourself. 
You can find an overview of our currently available stock here.